flotteur rrd fsw v5 lte 2019
Ewindsurf vous présente le flotteur RRD :
RRD Free Style Wave V5 LTE 2019.
Ewindsurf : Nous avions adoré la Version V4 de ce flotteur RRD Fsw et RRD ajoute deux volumes pour cette version FSW V5 les 78 et 114 litres en plus d'une nouvelle technologie avec la Black Ribbon en plus des Ltd et Lte.
Pour info la version 2020 qui a conservé le même Shape a gagné le Test Allemand dans Surf Mag soit une vraie référence maintenant en promotion à -31.7% soit 1399€
Toujours compacts, avec un nez tronqué et raisonnablement large pour une facilité d'exploitation et un confort optimal, ces flotteurs RRD Fsw V5 Lte couvriront un programme très vaste allant du Bump& Jump au Free Style Wave et même en vague selon les volumes. Le volume a été augmenté sous le maître beau et l'arrière est plus fin, afin d'exploiter au mieux la possibilité de l'équiper en Thruster pour plus d'accroche au surf et Jibe et un meilleur contrôle en vent fort.
We have added 2 new boards to the range, the 78 lts and the 114 lts. Those completely new shapes further expands the all freestylewave line. For the first time all the 3 small shapes (the 78lts, 84lts and 90 lts) come with orange K4 for RRD thruster fin set ups to make the boards ready to be used on waves, but also for a better grip during jibes or pulling out some tricks. The bigger sizes (the 96lts, 104lts and 114 lts) are equipped with K4 for RRD single SW fins. The "Power Box" fin system in combination with the 2 side slot box fins allow to find the best trim of the board: Single Fin for freeride or freestyle oriented session, Thruster for more grip and ease on waves. The new Freestyle Wave V5 has been completely renovated in style and is laminated using the new 160 grams Biaxial Carbon Innegra fiber on the deck. It is available in 3 different technologies, the LTE, LTD and the new BLKRBN (Black Ribbon). Our "industry benchmark" for high performance boards. It is now improved thanks to the new deck laminate that reduces weight and increases impact resistance. DECK laminate: 160 grams Biaxial Carbon Innegra fibers woven at +/45° BOTTOM laminate: 160 grams Glass with jumping reinforcement patch of 60 grams Glass.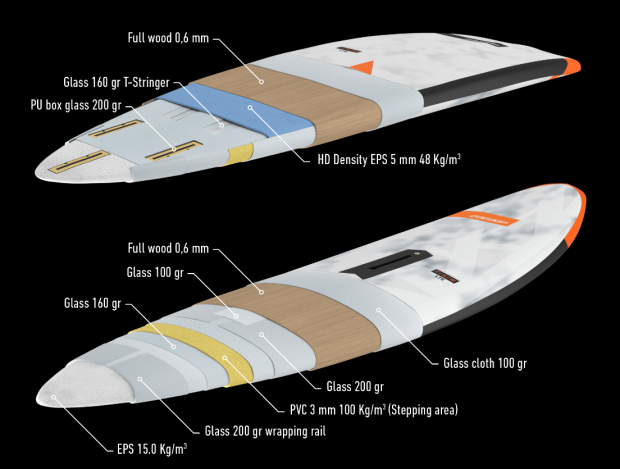 Set d'aileron Thruster recommandé :
- 96L = center 21 + 2x side 11
- 104 L = center 21/23 + 2 x side 11
Voire la gamme complète RRD Free Style Wave V5